TLDR: Beyond Slides Masterclass was a success; business coaching is open;
we were featured in The Star courtesy of WomenWork; what Ataare means.
---
1. Success of the 'Beyond Slides' training
Our online training session on how to make powerful slide presentations was a huge hit! The satisfaction score for the training was 95%. In addition, the net promoter score was 75! (the benchmark of excellent is 50)
"Beyond Slides: Make Slide Presentations Tell the Story You Want" was a three-hour interactive training session during which we had attendees from four different African countries!
A recap of the training outcomes can be found here, and you can see what some people had to say about the training below:
"I was engaged throughout the session and often find myself remembering and reflecting on the tips given to us by Wamuyu and Alice! Everyone deserves such a robust skill-building session."

"Very valuable content. Well placed and helpful tips and tricks that are practical in day-to-day slides."
---
2. Waitlist for the next Beyond slides training
Did you miss out on the first 'Beyond Slides' training? Don't sweat it; we've got your back. Here's a link to get on the waiting list for the next Beyond Slides training we'll be offering. You'll be the first to know about it if you sign up.
---
3. Feature in 'The Star' newspaper for a WomenWork article
Wamuyu Thoithi, the founder of Ataare Advisors, was featured in an article for Women Work in The Star, where she gave us insights on how to properly handle conflict. Conflict resolution is essential in many aspects of life, including personal, business, and work. As a result, there is something for everyone to learn from this article.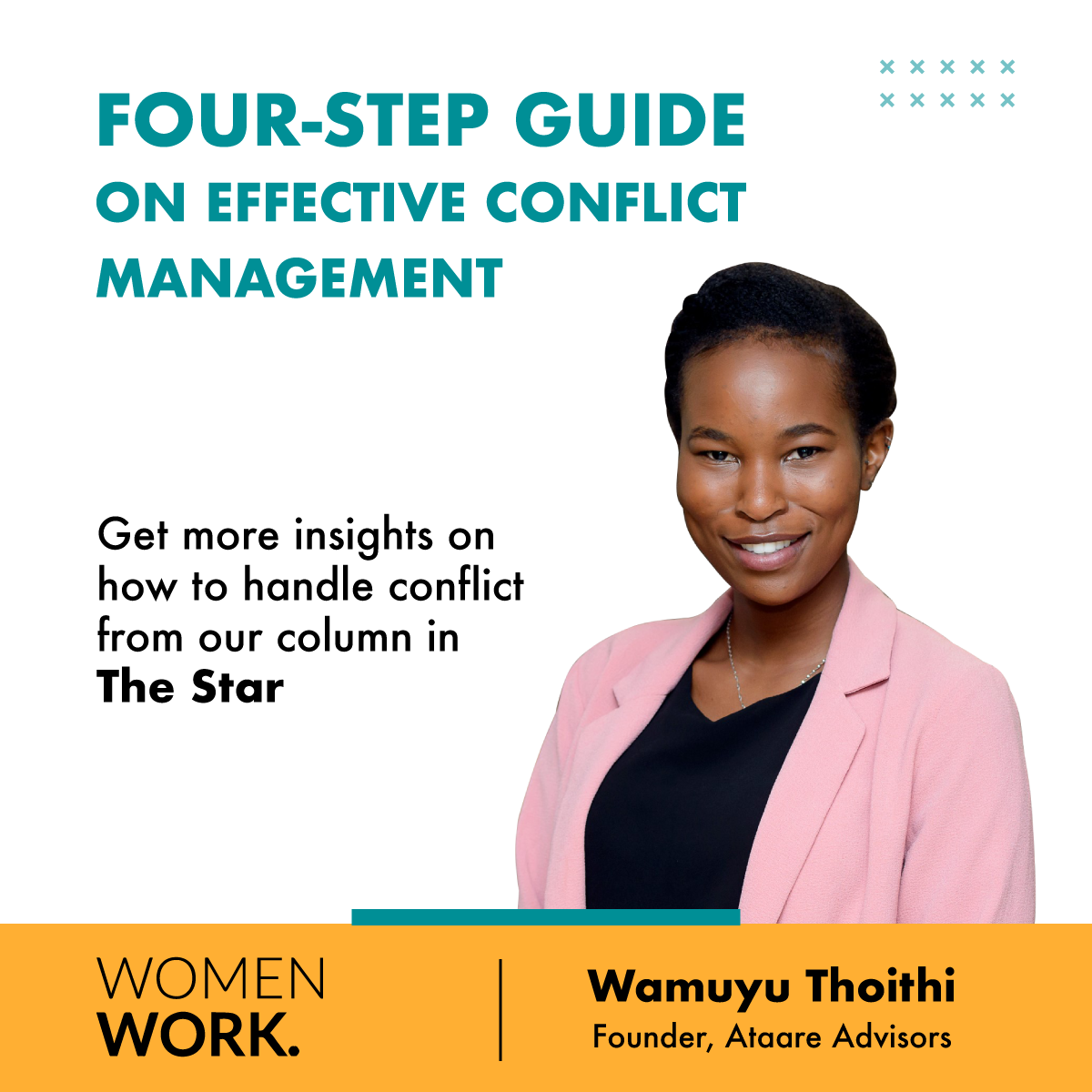 "Conflict can brew in oneself, other parties, or both. Emotions are one sure-fire tell-tale sign to be mindful of." Wamuyu
---
4. Easy as ABC!
Ataare Business Coaching (ABC) kicked off in late March in celebration of Women's Month. We want to inform you that we are now open to having business coaching sessions with those of you who are interested!
Our previous business coaching sessions had a net promoter score of 80! Here's what some clients had to say about our previous coaching sessions:
"I appreciated that the coach had a proper understanding of our business and our current business problem. I almost felt like she was part of our company."

"The coach prepared for the session beforehand and was truly vested in the session. This was very pleasant and definitely made me desire more to work with Ataare Advisors."

"I enjoyed that Wamuyu took time to look inside my business and have an intel about what we were all about."
---
5. What does 'Ataare' really mean?
Have you been wondering why we call ourselves 'Ataare'?
Well, one thing's for sure; it wasn't random. Here are some reasons why:'Ataare' is the Gikuyu word for 'Advisees.' We chose this word because we are a client-first organization.There is a Gikuyu proverb that says: "Mugi ni mutaare" which translates to "A wise person is one that is advised."Ataare also sounds incredibly close to "Ataari," the Gikuyu word for "Advisors."
---